Security Experts Warn Against Use of FaceApp
Security experts are warning the public not to partake in the FaceApp craze, which is being exacerbated by the #FaceAppChallenge that is going viral on social media, according to multiple reports.
While security experts and privacy advocates are warning users to avoid the app, Senator Chuck Schumer has requested that the Federal Bureau of Investigation (FBI) and the Federal Trade Commission (FTC) investigate whether there are adequate safeguards in place to protect the privacy of the app's users.
"FaceApp's location in Russia raises questions regarding how and when the company provides access to the data of U.S. citizens to third parties, including foreign governments," wrote Schumer.
Created in 2017 by developers at Wireless Lab in St. Petersburg, Russia, FaceApp now has access to the face and images of over 150 million people, Forbes reported. Users' photos are being uploaded to the cloud, yet the terms and conditions grant FaceApp the ability to do additional processing locally on their device.
"To make FaceApp actually work, you have to give it permissions to access your photos – ALL of them. But it also gains access to Siri and Search….Oh, and it has access to refreshing in the background – so even when you are not using it, it is using you," tweeted technology author Rob La Gesse, who warned users who have installed the app to delete it.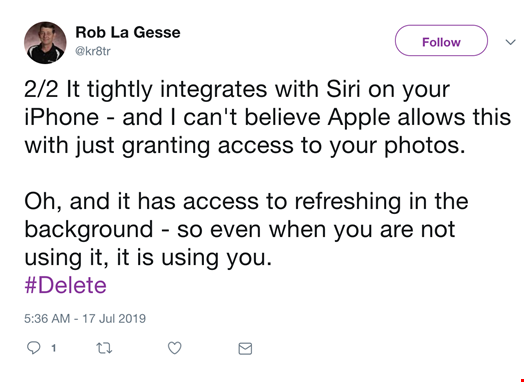 "FaceApp serves as an important reminder that free isn't free when it comes to apps. The user and his/her [photo are] the commodity, whether sold for purposes like marketing or more nefarious things like identity theft and creation of deep fakes. Don't use apps that need access to all your data and be sure to read the EULAs to ensure the app gives users some sort of control and protection based on where the data is stored and processed," said Rick McElroy, head of security strategy at Carbon Black.
This post Security Experts Warn Against Use of FaceApp originally appeared on InfoSecurity Magazine.