Take that, FBI: Apple goes all in on encryption
Apple revealed a slew of new software features for iPhone, iPad, Apple Watch and desktop computers on Monday – yet omitted an important new technology that will better protect customers' private data stored on Apple devices.
Apple File System, or APFS, is a new version of the technology Apple's products use to save and retrieve information, and improves the way information is organized and protected to make it faster and more secure.
The new feature is just the latest move towards more widespread encryption in consumer technology products following Apple's standoff with the FBI earlier in 2016, in which it refused to help the agency weaken its own security processes to access information on an iPhone belonging to a terrorist. Facebook and Google both pledged support for Apple during the fight, and both are subsequently reported to be planning encrypted versions of their messaging apps. WhatsApp went first, opting to fully encrypt all conversations by default.
As part of the new system, developers building software for Apple's devices will be able to opt for users' information to have no encryption, single-key encryption, or multi-key encryption "with per-file keys for file data and a separate key for sensitive metadata" – comparable to leaving a door unlocked, using one key, or using two keys.
In its documentation of APFS, Apple explains that full disk encryption has been available on OS X since version 10.7 Lion. APFS differs in that it encrypts files individually rather than as a one unit, similar to other encryption mechanisms Apple introduced to its iOS platform in 2010. It also encrypts related metadata – the basic summary attached to each file – and will keen data secure even when the device has been physically hacked.
Since its battle with the FBI, Apple has made a number of important changes to increase security and tighten encryption. Apple itself couldn't decrypt information the agency demanded, but the company did have the keys to access information stored in the shooter's iCloud account. The company is now reportedly considering a system that wouldn't allow it to access iCloud data.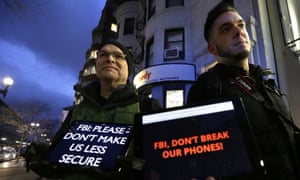 Many of the features announced at WWDC expand security of user data, something Apple has been keen to promote as "protecting user privacy". Safeguards include running artificial intelligence on the device itself, rather thanin the cloud, and using a technology called "differential privacy," which anonymizes data Apple does collect from its customers.
Those features focus on protecting data in transit, yet APFS is more like a bank vault on a device that secures information even if someone gains physical access to their computer, phone, tablet, watch or Apple TV.
Apple declined to comment on the new feature.
ACLU staff technologist Daniel Kahn Gillmor said that the expansion of AFPS is likely to have been prioritised after Apple's spat with the FBI. "Protecting the privacy of user data is one of the critical tasks of modern computing hardware and software. If Apple didn't offer powerful encryption features for their filesystems, they'd be remiss."
When Amazon removed full-disk encryption from the Fire OS software used by its Kindle Fire tablets, one security analyst described how the company was "chastised by the marketplace". Encrypting data is resource-intensive, and Amazon had apparently decided to ditch encryption in favour of improving speed and memory. It later backtracked and reinstated encryption.
Apple seems intent on avoiding similar controversy.
Yet Gillmor says encryption should be switched on by default, rather than being optional, in newer versions of Apple's macOS desktop software. "Most people don't deviate from the vendor-supplied defaults," he says. Gillmor also cautions that APFS hasn't been finalised and he isn't sure Apple has any plans to make underlying code available for public scrutiny, a practice common among the security community. There are good reasons to care about the impact of APFS. Stronger encryption doesn't just keep information from law enforcement agencies – it also protects people from hackers who might try to grab their data by breaking into a device, whether by stealing it or by poking around a carelessly discarded hard drive. That might not be as exciting as the ability to finally remove the Stocks app from your home screen, but it's still something.
Source | TheGuardian