Google I/O 2016: Allo messaging app embraces end-to-end encryption to take on WhatsApp
During its Google I/O 2016 conference, the technology giant announced a new application calledAllo that uses machine learning and 'smart replies' to streamline communications.
However, it's a mode called Incognito that is likely to become a key feature for privacy-conscious users as it offers end-to-end encryption as standard. Available for download this summer for both Android and Apple iOS, Google has promised that Allo will also offer a mode in which chats can be set to expire and will give users the ability to set private notifications.
According to Google, privacy and security are two extremely important factors when it comes to messaging. "Chats in Incognito mode will have end-to-end encryption and discreet notifications, and we'll continue to add new features to this mode," it asserted.
With these developments, alongside a focus on artificial intelligence (AI), Google is taking aim directly at its competition — such as Facebook's WhatsApp and Microsoft's Skype. In short, it's yet another headache for the FBI.
The Allo application is based on top of Google assistant (yes, with a small 'a'), which was also announced during the developer-based annual conference by CEO Sundar Pichai. It uses your existing phone number — also like WhatsApp — which simplifies the sign-up process and keeps everything as streamlined as possible.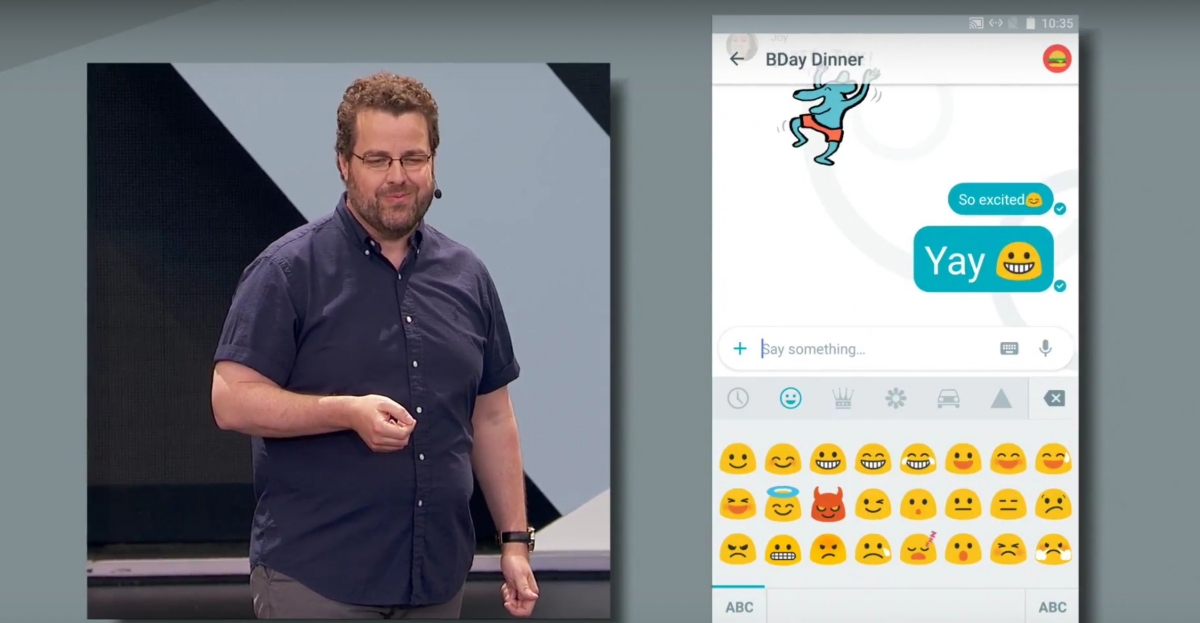 Google touted a number of other features, including changing the size of messages (from 'whisper to shout'), and image annotation. Allo also takes advantage of 'smart replies' to suggest responses in ongoing conversations – such as 'nice', 'scary' or 'talk soon'. If you grant it permission, the app will analyse photos from your inbox and suggest replies based on what it 'views' in these images. Additionally, Google has added the ability to play emoji-based games directly with Allo – only one of many, many, mentions of emoji's during the keynote.
Google claims that Google assistant will try to "understand your world". In a Siri-like feature, you can ask it questions, check your agenda for the day, book a table for dinner or find a hotel for an upcoming holiday. If it works as planned, it signals an ambitious next step for the already ambitious tech company. A separate device called Google Home was also touted that embraces an IoT mindset and links to other devices such as speakers, TVs and even lightbulbs.
Duo
Another application announced just after Allo was called Duo — and is a one-to-one video calling service for both Android and iOS. Duo is also based on your phone number which allows you to easily connect with everyone already in your phonebook. Google claims the calling works well whether on cellular and Wi-Fi — however this is still to be seen. Like Allo, with a focus on security, Google said that all calls on Duo will be encrypted end-to-end.
Source | IBTimes