Facebook planning encrypted version of its Messenger bot, sources say
Facebook users this summer may have to make a choice: do they want extra privacy – or better artificial intelligence?
In the coming months, according to three people close to the project, the social media company plans to release an optional encrypted communications mode for its Messenger app, which is used by more than 900 million people.
The system will let users deploy so-called end-to-end encryption meant to block both authorities and Facebook from reading users' texts. Such technology has become more widespread in the post-Edward Snowden era as the technology industry tries to assuage fears about prying eyes in both the government and Silicon Valley headquarters.
Yet Facebook plans to make the tougher encryption an opt-in, because turning it on would get in the way of some new machine learning features it is building into Messenger, sources said. In May, Google faced blowback from privacy activists after it made a similar choice for its new Allo messaging app.
Facebook's move illustrates how technology companies are doubling down on secure messaging in the wake of Apple's standoff with the FBI. At the same time, the companies also don't want to get in the way of their other business objectives.
The technology industry is increasingly caught between two conflicting trends. Consumers seem to be demanding that companies share less of their data with them – but also want companies to improve their services by integrating more of their personal data.
Facebook, Google, Amazon and Apple all have taken steps this year to build virtual assistants that analyze consumers' texts, photos and other habits to help them navigate daily life. Google's Allo app, for instance, reads all of a user's messages and suggests an appropriate response. If Alice sends Bob a picture of her new puppy, Google might suggest Bob to reply, "OMG CUTE PUPPY!".
At its developer conference in April, Facebook showed how it wants to bring its own smart features to Messenger. This includes "bots", which offer simple, responsive services such as reading certain news stories from CNN or ordering flowers.
The problem is that this type of "machine learning" requires users' messages and other data to be routed through corporate servers so that they can be analysed and an appropriate response sent, as well as informing future interactions.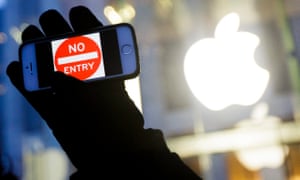 But for strong encryption to work effectively, only a message's sender and recipient can have the ability to decode the message. If Google, Facebook or some other company has the ability to process the messages, it's hard to guarantee that only the two people texting are the only two reading.
Google employees said they had to work through a similar calculus before they unveiled Allo at their May developer conference. Speaking on stage at an outdoor amphitheater, executives showed how the messaging app would rely on a virtual assistant to add smarts to users' conversations.
"It learns over time to make conversations easier," said Mario Queiroz, vice-president of product at Google, who added that machine learning would make chats "more expressive, more productive".
Later on the company talked about Allo's incognito mode, which would offer end-to-end encryption based on technology also used by Facebook's WhatsApp service.
Google later confirmed to the Guardian that it made the extra privacy an opt-in feature because many of Allo's smarts would no longer work if users turn on incognito mode, which prevents certain types of data from passing through Google's servers.
With both Google and Facebook, consumers will have the option to turn on the extra privacy mode for each message.
Facebook would neither confirm nor deny its plans for adding more encryption to Messenger. "We don't comment on rumor or speculation," a Facebook spokesman said.
Tradeoffs between security and usability aren't new. You can put your valuables in a safe or a desk drawer. Your computer password can be "123456" or "Y0Uwon*Tgu3$$myp@$$W0RD!". And you can use the government email system or set up your own server.
But for many consumers, such tradeoffs with modern technology often seem abstract. If nothing else, Google's and Facebook's new messaging products will force consumers to see the tradeoffs each time they want to send a text message. Engineers at the two companies and others predict that most consumers would rather have a smarter messaging app than a more private one.
But there are of course people such as Kenneth White, a security researcher and co-director of the Open Crypto Audit Project, which tests the security of encryption software. Speaking of his messaging inbox he said, "an all-knowing cloud AI agent has no more business there than listening to my voice calls".
"I just object to the opt-in default for what could be millions of users as they discuss politics, their love life, health concerns, and other topics meant to be private," he said.
Source | TheGuardian