As mobility grows, enterprises assess wireless-first designs
Scott Emmons never thought of himself as a pioneer.
But seven years ago, long before the concept of "wireless-first" networking gained the spotlight it basks in today, Emmons, an enterprise architect at Neiman Marcus, began investigating how Wi-Fi and the wireless LAN could support the retailer's business strategy.
"The conversation began sometime back then, and it was really a push for us to be able to deliver innovation and technology in-store to our sales associates and our customers," Emmons says. "There were foundational things that needed to happen, and one of the key tenets of our discussion was that we needed to look hard at bringing Wi-Fi forward as our primary network — not just in the stores but across the enterprise."
Today, Neiman Marcus, based in Irving, Texas, boasts an infrastructure that is moving rapidly toward using wireless as the primary means of connectivity. It's a strategy that's providing the company with new marketing weapons and greater agility, while at the same time giving customers new ways to shop and engage.
But making the move to wireless first doesn't come without some bumps and bruises along the way. Challenges — among them persuading top management that abandoning the wire is a sound business strategy — mean that IT managers have to tread carefully to ensure their operational policies are in place. Management and security are other areas that need special attention.
Ahead of the curve
Supplanting the wired network with Wi-Fi was not on too many enterprises' radar screens when Emmons began examining the option back in 2009, but it's now certainly a discussion that many organizations are having today.
Thanks to the ratification of 802.11ac — so-called gigabit Wi-Fi — enterprises worldwide are re-evaluating Wi-Fi's role in their networks. Interest in the standard's new capabilities is high. IDC projects that the specification will become the prevailing Wi-Fi technology — in terms of shipments and deployments — as soon as the end of this year. And with 80211.ac Wave 2 on the horizon, promising speeds of up to 6.93 Gbps, the path to a wireless-centric enterprise network is illuminated even more clearly.
"We are, today, wireless first in many organizations," said Craig Mathias, principal analyst at the Farpoint Group in Ashland, Mass. "I say that because clients are fundamentally wireless; they don't even provide a way to plug in. The wired network exists largely to support the wireless network. So wired is there to provide power [and] switching, and as wireless evolved it has taken advantage of what we have today with the wired network."
Vendors are listening: Aruba Networks, a Hewlett-Packard Enterprise company, touted its wireless-first strategy at this year's user group meeting. Other major Wi-Fi suppliers, such as Cisco, Extreme Networks and Aerohive Networks, have similar plans and projects.
Marketing and IT: One strategy
For Neiman Marcus, going wireless first was both an economic decision as well as a marketing strategy. The retailer's aging network could no longer deliver the speed or reliability the organization required, leading Emmons and other executives to evaluate what steps to take.
"We were already thinking about how much it was going to cost to refresh our network, and we also knew that delivering data to the store was going to be more important," Emmons says about the project anchored by software and hardware from Aruba.
"When we looked at what was coming," he adds, "it made sense to us that wireless was going to be more economical, and that speeds and capacity would exceed what we were getting from our existing wired infrastructure." It definitely was a learning curve. We had to make our case multiple times to convince those who sign the checks that this was the right thing to do.
Today, Emmons estimates that more than 50% of Neiman Marcus' network traffic is wireless. The company has installed more than 2,600 access points (APs) supporting the 802.11n standard across approximately 100 stores and corporate facilities. The network averages about 10,000 users at any given time.
Where wireless is the primary means of connectivity, Neiman Marcus has put the technology's capabilities to use in the retail environment. Store associates are equipped with iPhones, which are loaded with custom CRM software and inventory and product information apps. The retailer is also rolling out beacon technology and indoor location tracking at selected stores to alert shoppers to special offers, using Aruba's Mobile Engagement Platform as a foundation.
"It definitely was a learning curve," Emmons says about the transition. "We had to make our case multiple times to convince those who sign the checks that this was the right thing to do. It wasn't a battle, but certainly everyone wanted to be a good steward. [Management] wanted to see that it was vetted and ready for the role it was going to play."
It wasn't just the capital investment; making wireless the primary network requires testing and careful planning. Building materials have to be taken into account, outside interference has to be managed, and users have to understand the enterprise's security and policy standards.
"There are just a lot more variables in the wireless world," Emmons explains. "It requires special care and feeding."
Wireless bolsters infection control
For Tim Armstrong, CIO at the Brant Community Healthcare System (BCHS) in Brantford, Ontario, going wireless first was fueled by a network upgrade that encompassed new servers, new storage and a beefed-up 802.11ac wireless network from Aruba Networks.
"From the hospital's perspective, every time I have to run a new wire, there are all kinds of infection control issues," Armstrong says, explaining why the 265-bed, 1,500-employee facility saw advantages to a wireless-centric foundation.
"The minute I open up a ceiling panel [to run a wire], I have to contain the air that's coming out of that panel and do it in a way that's safe for the patients," he adds. "So we started deploying wireless to mitigate all of the complexities associated with running wires."
Today, hundreds of users access the BCHS network — from doctors and nurses to maintenance workers and clerks. Medical devices such as ultrasound machines, glucometers and other gadgets installed across the five-building campus are also connected. Patients get free access to a guest Wi-Fi network that's isolated from the main one.
While the wired infrastructure still plays a key role, Armstrong says that as the hospital expands, the preference will be a wireless-first approach.
"We'll consider whether we need to rerun the wiring we have or at least limit it," he says. "The speeds and performance we're getting now on the wireless side — you wouldn't be able to tell the difference [from the wired network]."
No persuasion necessary
Armstrong didn't necessarily have to persuade top administrators to increase their reliance on wireless technology, but he did have to diffuse management, security and compatibility concerns. The management and security pieces were addressed through the use of Aruba's AirWave and ClearPass software. Transactions that occur outside of the hospital are processed through a separate and private network, operated by the government of Ontario, to ensure security.
AirWave is also used to monitor the Aruba mobility access switches that anchor the 802.11ac implementation as well as the Cisco infrastructure that underpins the hospital's wired network. BCHS installed close to 400 APs across its five-building campus.
Many of the health-related software programs hospital staffers rely upon aren't necessarily written for mobile use; as a consequence, staffers who log onto the applications via their smartphone or tablet browsers sometimes run into difficulties.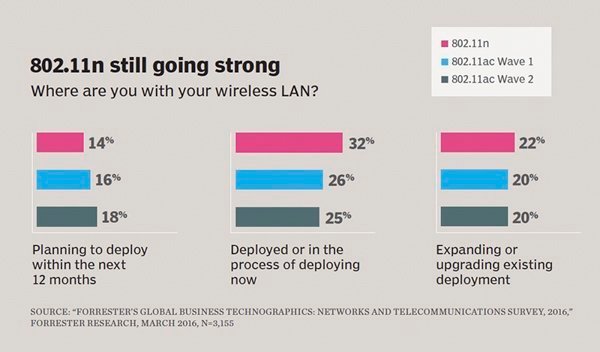 What's needed, Armstrong says, are applications that work equally well regardless of whether they're accessed on a wired PC or mobile device, or if they're accessed through Safari, Chrome or a mobile browser. "That's the only way you can have a level playing field for both wired and wireless users," he says.
"To us, it doesn't matter which side of the house it's on. It's all managed in the same way," Armstrong adds, noting that 40% of BCHS' traffic is now wireless, a percentage that will grow as the hospital continues its migration.
Management, security issues top challenges when going wireless first
Enterprises face a number of challenges when they go wireless first, says Ed Tittel, a networking consultant based in Round Rock, Texas. Management consoles and deployment tactics must be adequately robust, and network engineers must evaluate how to reconfigure the wired infrastructure to support the shift. It also requires optimizing mobile apps and other critical software. Unified management — using one tool to oversee both the wired and unwired network — is a critical consideration.
Auditing is another. Enterprises must vet their mobile infrastructure the same way they do their wired networking to make sure policy, legal and security requirements are consistent. "The rules aren't always the same in mobile as they are when you come in wired, and that distinction needs to go away," Tittel says.
But the advantages, he says, outweigh the obstacles. Wireless technologies could provide new ways for enterprises to make better use of existing IT assets and information. Additionally, it becomes easier to set up a temporary commercial presence, such as a tradeshow booth or presentation, when the temporary wireless infrastructure is built to be just as secure as the permanent infrastructure.
"There could be some business opportunities that are currently either going underexploited or unexploited that are going to start becoming more mainstream just because someone says, 'Oh, I didn't know you could do that on a wireless network. Let's go make some money,' " Tittel says.
That was exactly the motivation that compelled Neiman Marcus to make wireless its primary network years before the notion gained widespread traction. And it's driving thousands of other enterprises and organizations to make the same choice today.
Source | SearchNetworking